A fun way to learn to carriage drive while still being competitive.
Horse Driving Trials is the fastest growing equestrian sport in the world today.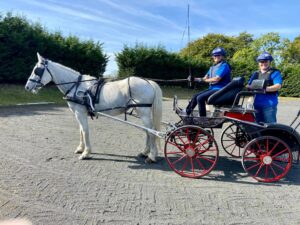 Olympic style  competitions are a shorter version of Horse Driving Trials and are a great way to introduce the sport to both horse and driver.  It is  a combination of cones and obstacles, generally held in an arena, indoors or outdoors.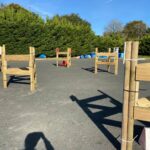 Cones are the equivalent of showjumping in the equestrian sport of Eventing – you have to pass through a series of numbered "gates" – a pair of cones with tennis balls on top – and if you knock down a ball you incur 4 penalties.
Obstacles are the equivalent of the cross country in Evening – they are a set of 4 or 5  lettered "gates",   A, B, C, D, E, F,  such as a pair of hay bales, which you have to pass through in the correct order and you can't take any short-cuts through a gate unless you have already "opened" it.  Each obstacle is timed separately through a Start/Finish gate.