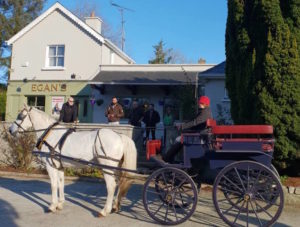 Our traditional wagonette was acquired by the previous Irish owner at a Timbley & Shoreland carriage auction in England in 2018 and is stated in the auction catalogue as being circa 1920 and therefore does not have brakes.   It seats 4 people in the back facing inwards, plus driver and groom up front, and is perfect for all occasions – weddings, carriage rides, Santa transport, Valentine's Day/romantic rides and much more.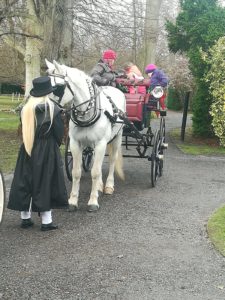 Traditionally, wagonettes were the vehicles sent to the train station to collect the luggage while the people travelled in a landau.
Painted blue with red undercarriage and upholstered in red,  (complete with basket umbrella holder for Irish weather!) it can be drawn by a single horse, usually Beauty, or a pair, generally Beauty & Silver at the moment.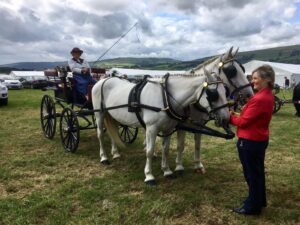 This is the vehicle we use for showing competitions – Reserve Champions in Tinahely Agricultural Show in 2019