Our two beautiful white horses, Beauty & Bibi, are prizewinning carriage driving horses, having competed with success on a number of ocasions at the RDS Dublin Horse Show, and also they were the Carriage Driving Ireland Novice Pair Champions in 2012.
Riverside Beauty is a 15.1 cob, bred near Tullow, Co. Carlow, and she has achieved success at every appearance at AIRC Advanced Intermediate level, notably a Joint 1st and a 2nd at ODE, and 2nd and 3rd in Hunter Trials, as well as numerous placings in showjumping.
Bibi is a Polish warmblood – her real name is Natkieta. According to her passport, she arrived in Ireland via Germany and she was  skin and bones when we acquired her.  Now she is a real madam, with her head tucked in and her dainty step, she has helped Beauty          to learn how to draw as a pair, and now, with      a much wider girth, she is the boss.
(Great news – Bibi is expecting a foal in June 2019 – watch this space for updates.  Therefore, she will not be drawing a carriage for the forseeable future)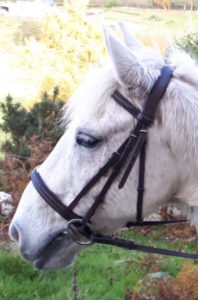 Silver is the new boy on duty, filling in for Bibi while she becomes  a mother.  He has a big Roman nose but matches Beauty perfectly.   While he is only 10 year old, he has worked hard on the streets of Dublin and is now enjoying some peaceful grazing in Carlow with Beauty and Bibi.  Beauty has finally found someone more docile than she and bullies him no end.
We pride ourselves on presenting our turnout to traditional competition standards at all times (a horse and carriage is called a turnout)  – beautifully groomed with brushed tails and with "rose bud" plaits in manes.