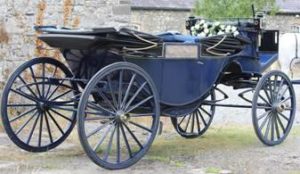 Our beautiful royal blue traditional "canoe" landau is upholstered in luxurious blue velour. This carriage is particularly suited to Irish weather – at a moment's notice the hood can be fully open, fully closed, half open or half closed (depending on your Irish point of view!).
Generally we just use this carriage for weddings and special events but please contact us with your particular requirements.
You will be following in the footsteps (or is it hoofprints!) of history, as this particular carriage was frequently used by a previous President of Ireland, Mary Robinson, for her public engagements, such as arriving at the RDS for the Dublin Horse Show (see photo in our gallery).  And is the same style of carriage as is used by many royalty for their weddings.
Drawn by our two grey horses, it looks stunning – see our YouTube video http://www.youtube.com/watch?v=DSgHgJ2WSs8&feature=youtu.be
This is a genuine vintage carriage.   It is thought to have been manufactured in the 1940's by the well known coachmakers, Breens of Enniscorthy, Co. Wexford.  As this was pre the disk brake age, we have to be careful on hills, but yet the carriage gives a far superior and more smooth ride than most modern reproductions.  They don't make carriages like this any more.
It will be a stylish marriage, you can afford a carriage!