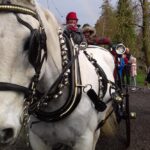 Make Christmas extra special this year with an outdoor activity in the clean fresh air of Carlow and Wicklow.  Don't let the Covid-19 pandemic spoil Christmas for you and your family.
Get into the spirit of Christmas and treat your family to  a "Jingle Bell Express"  horse and carriage ride, complete with genuine American sleigh bells.  There is nothing more magical than trotting along listening to the clip clop of horses hooves accompanied by the sound of Christmas jingle bells.
 It will be a magical Christmas experience for the whole family.
Or it could be just a romantic trip for two!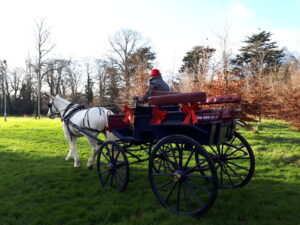 We use our 1920's wagonette, decorated appropriately for Christmas, to provide a truly nostalgic horse and carriage ride
Location :  on the Wicklow/Carlow border just 10km from Tullow, 12km from Bunclody, 12km from Carnew, 9.9km from Shillelagh.
Warm up with a free hot chocolate/tea/coffee before the trip and then stay warm and cosy snuggled up in blankets while on the carriage.
Maximum 4 people per trip (members of the same family and household)
Trips suitable for all ages – must be able to climb steps or be lifted into the carriage
Trips available 10th December,  2021onwards (but not available on Christmas Day!)
Cost is €10 per person – minimum €30 per trip
Free cancellation/postponement
Pay on the day
Pre-booking required – call or text 086 6089535 (no voicemail please) or email carlowcarriages@gmail.com
Christmas Vouchers available
Call us to discuss any special requests 
Horse & Carriage Rides at Farmleigh house (unfortunately not being held this year)
Safety Measures
The health and safety of all concerned – people and horses  – is paramount to us and we are committed to keeping your family safe during the Covid-19  pandemic restrictions while on a "Jingle Bell Express" horse and carriage ride:
 It is an outdoor activity
Only one family permitted per trip – up to 4 people
Only 1 trip per day will be organised
The only person to interact with you will be the driver
All trips will be in daylight
While we will take every precaution to safeguard both guests and ourselves, ultimately guests participate at their own risk and are responsible for their own personal hygiene and safety.