We specialise in themed horse drawn carriage rides where the carriage and horses (and the whip, ie.the driver) are appropriately decorated and dressed up.  Great fun for all the family.

Christmas – "The Jingle Bell Express"
What could be more magical than riding along in a horse drawn carriage listening to the sound of jingle bells on our "Jingle Bell Express", featuring Rudolf, (Beauty with a red nose) perhaps driven by one of Santa's elves, or maybe even Santa himself.  Jingle Bell Express rides will be available throughout December and the Christmas holidays.  Wrap up warm and take your kids for a real Jingle Bell treat complete with genuine American "Sleigh Bells" and get into the spirit of Christmas.

Also available for transporting Santa to schools, clubs, villages, etc.
Contact us for more information.
More information will be available on our "Jingle Bells Express" page nearer to Christmas or just call us if you would like to pre-book to ensure your date is available.
Unfortunately, due to Covid-19 restrictions, horse and carriage rides at Farmleigh House in the Phoenix Park on Sundays in December will not be going ahead in 2020.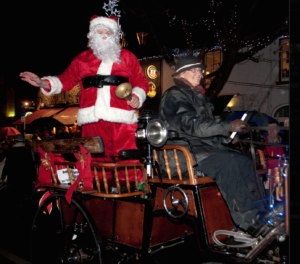 The Skeleton Express
Take a ride in the one and only "Skeleton Express" featuring "The Headless Horseman".   Only available at Ballynavortha House.  See our separate Skeleton Express page coming up to Hallowe'en for up-to-date details.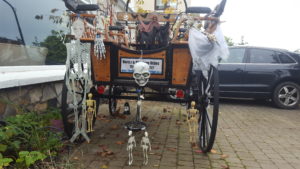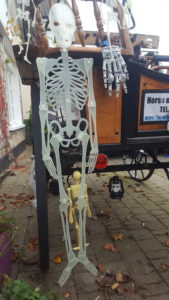 Contact us 
Tel. 086 6089535
email : carlowcarriages@gmail.com
"Cupid's Carriage" – Romantic Evening Drives
On a cold starry night, perhaps wrapped in a blanket, or a warm summer evening, with a gentle breeze on your face, imagine snuggling up beside the love of your life and being taken on a romantic horse and carriage ride in the heart of the Irish countryside.   Maybe with a glass of champagne in hand, what better way could you propose your hand in marriage? (or perhaps prompt a proposal?)
You don't have to wait for St. Valentine's Day!
Whatever your request, we will endeavour to facilitate your requirements. Pre-booking ifor themed carriage rides is essential.
Contact us
Tel. 086 6089535
email : carlowcarriages@gmail.com
St. Patrick's Day
Celebrate our National Day in true traditional fashion and fly the flag on a horse and carriage ride.  Pre-booking essential.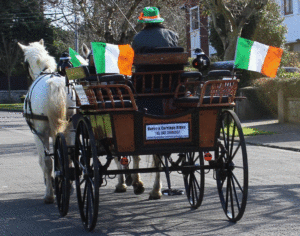 Prices
€50 per carriage for a half-hour.  Great value for a family trip.
While a half hour is generally long enough for small children, trips can be extended if required.